Plastic P.E. P.P. Adhesive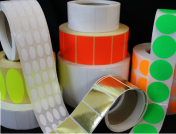 The white adhesive plastic labels are used for barcode and text and they are appropriate for nurseries, solar water heaters, car parts, in general for products that are exposed in exterior spaces.
The Plastic P.E. P.P. labels are in rolls for each type of printer with ribbon.